SUPERNOVA: AN AMBIENT WEBZINE ✶ SUPERNOVA: AN AMBIENT WEBZINE ✶ SUPERNOVA: AN AMBIENT WEBZINE ✶ SUPERNOVA: AN AMBIENT WEBZINE ✶ SUPERNOVA: AN AMBIENT WEBZINE ✶

Role
Independent project for Art 395 Software For People

Timeline
2 weeks, Feb 2023


PROCESS
The Brief: Unite three texts around a common theme into a cohesive web experience, using only HTML/CSS (no js allowed!)
Working with three texts on the theme of the universe and self-reflection: the minecraft end poem (by Julian Gogh), an article about stardust from EarthHow, and a poem I'd written in my notes app.
---
Some guiding questions:
How do I balance intuitive navigation with an open-ended experience?

How can I take these texts outside of familiar mediums and inspire curiosity in users?
---
Working within the constraints of the assignment, I was inspired by my longstanding love for ASCII art and nostalgia for the open-ended exploration of personal websites on the 2000s early internet.
After some playing around with ASCII art drawing tools, I loved how you could recreate a galaxy with just little dots and dashes and symbols. The universe is on your keyboard!
I wanted my webzine to draw attention to the magic of the handbuilt web and HTML/CSS as a medium
With this theme in mind, I migrated an ASCII galaxy I had drawn into HTML, and then experimented within my code editor until until I had a homescreen, navigation system, and text pages I liked:
>> Homescreen: open-ended navigation, with written cues to help direct the user
's exploration across the 'map'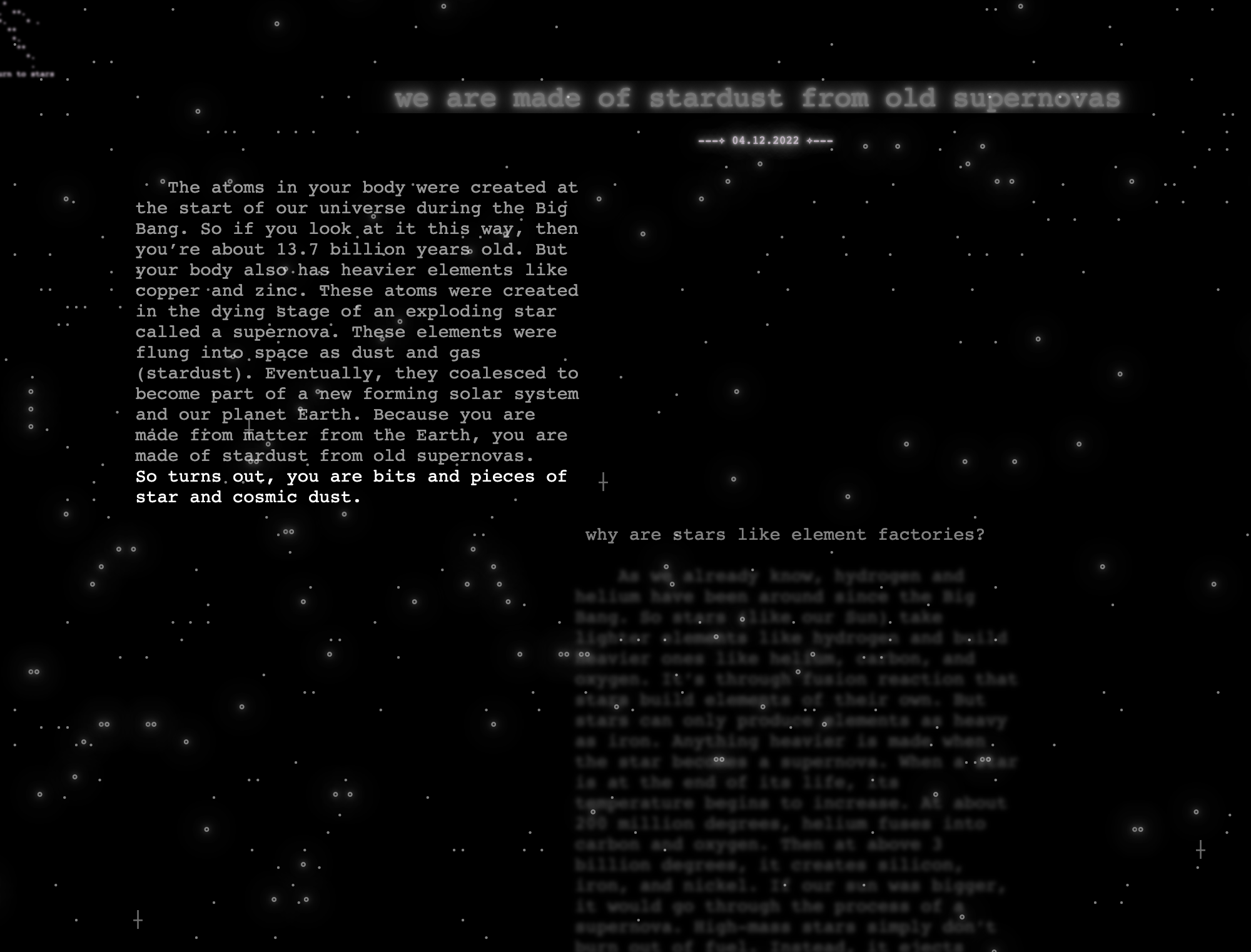 >> For the scientific article, I rearranged the text in chunks with vertical scrolling to make it feel like prose written on an old scroll, in order to reframe scientific language as poetic

>> I used hover interactions and easter eggs to encourage user exploration through the webzine

---
Key Takeaways & Things I would do differently:
Add instructions as a pop up, rather than have the user have to find them. Don't assume that you have the user's extended attention!
Thinking through making when learning a new medium
I ︎ the handmade web
---
---

An ambient webzine about seeing the cosmos within yourself. How is creating a website an act of world-making?

Explore the space, or let it sit quietly on your desktop, up to you. Made all the ASCII art myself :]

︎︎︎ click the window to view!


---